In Parkview Creche we believe that partnership with parents is an important aspect of children's development. As stated in our policy we recognize that parents/guardians play a key role in the education of their children. Children's learning and development can be enhanced by parents and practitioners working together, ensuring that the child's best interests are at the centre of all decisions.
We are following parents feedback, suggestions and Aistear and Siolta guidelines which states that "parents are the primary educators of the child and have a pre-eminent role in promoting his/her well-being, learning and development" (Siolta 2006, p6) to review and improve our  approach on partnership with parents.
Building partnership is a daily process based on ongoing communication therefore we communicate with parents during drop off and pick up times and through our Little Vista application. Parents are receiving updates on children's day and little notes about activities and their benefits.
Here are examples of daily activities notes sent recently to parents:
"Yesterday children made green handprints. Today we arranged them into Christmas tree shape on the window. Children were picking their colours and decorating their handprints with fingers. This activity supports development of imagination, creativity, colour awareness and fine motor skills. The tree is placed on children's eye level and all children can see themselves represented on it, which has positive effect on their self esteem and allows them to feel as part of the group. Identity and belonging plays an important role in children's development (Aistear- Identity and belonging)."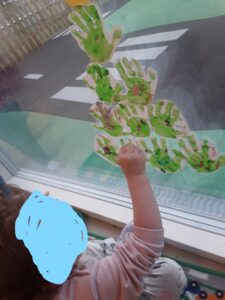 "Today we were using our imagination and creativity while stamping with apple and cinnamon. We were exploring texture, smell and taste of cinnamon apple. At the end we ate our apples and they  were so good 😉 Our classroom smelled like Christmas 🙂 This activity supports children cognitive development, development of fine motor skills and allows them to explore the world around them using natural materials."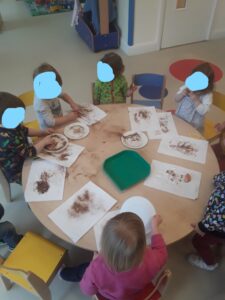 As mentioned before parents feedback and suggestions are highly appreciated and we would like to share recent feedback from one of our parents:
"Erica,
A quick note to give you a super positive feedback for Paulina in MN's room. We do really appreciate the detailed notes she is filling in the app for parents, the numbers of wonderful activities and pictures posted.
We do love Farida to the moon and back, she is a star with kids and MN adores her. Same for Anuta! MN loves her and hugs her every time she sees her. Just wanted to let you know :-)"