Earth Day 2021
Last week in Preschool we celebrated Earth Day, which falls on April 22nd each year. We started by talking about why we celebrate Earth Day and what it means. We used our hands to paint an Earth poster and looked at pictures of the Earth from space. We saw the green land, the blue ocean and lots of white clouds. LC said 'That's Earth, we live on Earth with my Mommy and Daddy.' We read a story called 'Mr Men Go Green' which talks about the different ways we might be wasting energy and water without realizing it. We spoke about saving energy and realized we are already good at this because we always turn off the lights when no one's using the bathroom. We also made sure to only use the water we needed when washing our hands and when we had snack outside some of the children didn't want to finish their drink so they poured the water into our plant pots instead of wasting it!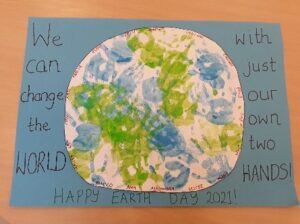 Our main focus for the week was learning about recycling. We looked at different recycling symbols and tried to find them on boxes, bottles and egg cartons. We looked at the food in our snack to see if anything was recyclable and were amazed to see the amount of paper and plastic waste we can recycle in our classroom! We washed out our yogurt cartons and labelled our bins to make it easier to remember what goes where. We all recognised the recycling symbol because it is on Rocky's badge in Paw Patrol. Rocky's catchphrase is 'Don't lose it, reuse it!' and JA said the Rocky also says 'Green means go!' EF said 'Rocky uses the rubbish to fix things' and CFL said 'Rocky's truck is a recycling truck!'. We looked at some pictures of real recycling trucks and watched a short video of what it looks like inside a recycling centre. CFL said 'That's the recycling plant!' We watched the big machines put the glass, plastic and paper into different containers. FC said 'Look the machine puts the glass and the paper and the bottles with each other'. We played a game to see if we could sort the different recycling too.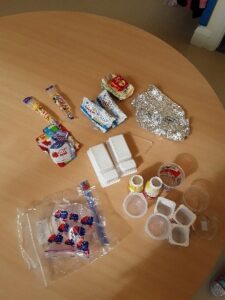 We also looked at different coloured bins we might have at home and said that the black bin is for waste, the green bin is for recycling and the brown bin is for food scraps to make compost. Later that day when we were in the garden, some of the children noticed that the houses across the road had their bins in front of their house. CE recalled that the brown one was for food and said 'You can put that food under the muck for the plants'. We also saw the big recycling truck come to collect the bins and heard the glass bottles falling into the truck, it was very loud! We then looked at other ways to recycle we might see such as bottle banks, EG said 'I know them we put the bottles in there.', and clothes banks. We spoke about how giving away or donating old clothes and toys is also a type of recycling and allows others to enjoy things that we no longer need.  BS said 'If you are not a baby and you have new toys, you can bring your toys to the shop so someone else can play with them.'
We collected a lot of cardboard boxes and other recycled materials and talked about what we could make with them. CFL asked if we could make Rocky's truck and the other children wanted to do this too so it became a group project. We picked out the boxes we needed and glued them together. We made sure to test it was big enough for us to sit in first! We used scraps of newspaper and glue to cover the boxes to make them stronger and then looked at pictures of Rocky's truck so we could make all the pieces we needed. We took turns to paint the truck green and made some wheels, recycling bins and grabbers from spare cardboard to add to the truck when it was dry.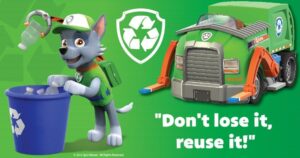 When the truck was finished we took it out to the garden to play with and took turns to be the driver. The children pretended the blocks were items to recycle and put them in the back of the truck. OM said 'This is where the recycling goes and then you can close it'. Everyone really enjoyed playing with their truck and took pride in the fact that they had made it themselves. CFL said 'I think this is the best truck ever!' The children learned a lot about how to protect our earth this week and seemed to enjoy this topic. They have done an amazing job at remembering to recycle their waste after snack time and we are so proud of them!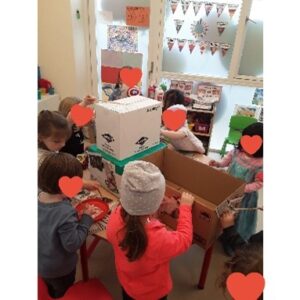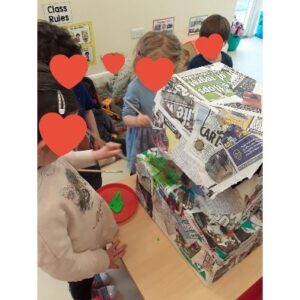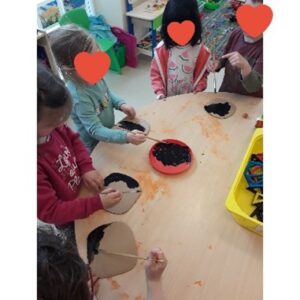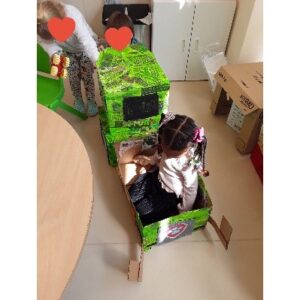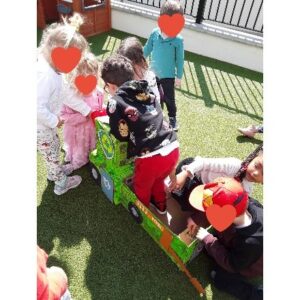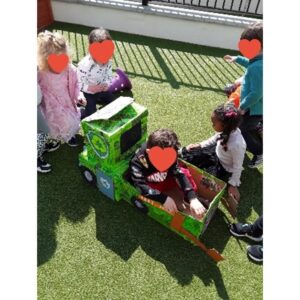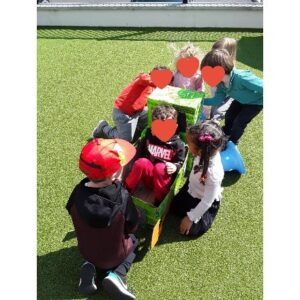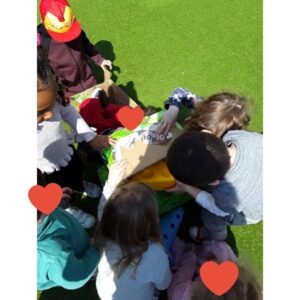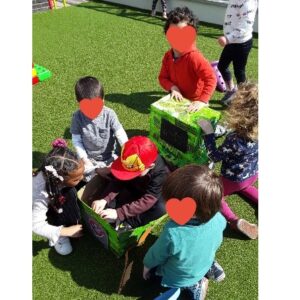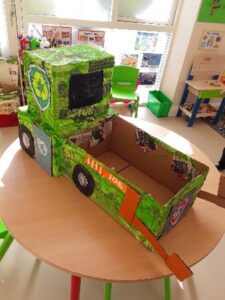 Here are some resources we looked at for this topic:
'Mr Men Go Green' –  https://m.youtube.com/watch?v=ZJCWwyrW4wo
'Murray Visits A Recycling Centre' – https://m.youtube.com/watch?v=-0ijMPvIy-U
Recycling for Kids – https://m.youtube.com/watch?v=6jQ7y_qQYUA
'I Can Save The Earth' – https://m.youtube.com/watch?v=2Mkwhe6LOBo
'Reduce Reuse Recycle' – https://m.youtube.com/watch?v=AOvcW8l3RzE
'Miss Fox's Class Go Green' – https://m.youtube.com/watch?v=R-UNKPdwpTg
'Earth Day Every Day' – https://m.youtube.com/watch?v=qvdhsn-BFDI
'It's Earth Day' –  https://m.youtube.com/watch?v=_GqM-U5dCsQ
'The Lorax' – https://m.youtube.com/watch?v=sJ0BvL5ELko
Amy & Alejandra