Chinese New Year Learning Story
For the past two weeks in Preschool, we have been learning about the Chinese New Year. We talked about China and looked at pictures of traditional dress, temples and other aspects of Chinese culture such as food and how the Chinese language is written differently from English. We looked at a map of the world and found where China is. We looked at the Chinese flag and compared the colours to the Ireland flag and used crepe paper and cut out stars to make our own flags.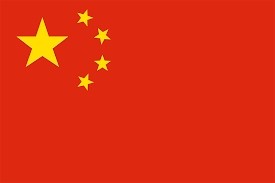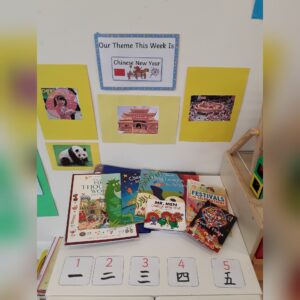 We read the legend of the Lunar New Year which explains that many years ago on the first night of the new year in China a dragon called 'Nian' would come into a local village. The people who lived in the village were afraid and asked a wise man for help. He said that the dragon was afraid of three things – the colour red, loud noises and bright lights, so on the next new year the villagers decorated their houses and wore red, lit lots of bright lanterns and made noise with drums and firecrackers which frightened Nian and he never returned. We talked about this story at circle time and asked the children what they remembered. EF said 'Red is the lucky colour', FC said 'The lanterns make the light to scare away the dragon' and CFL said 'I think at every Chinese New Year they'll all bang their drums to scare away the dragon, the real dragon.' We have been listening to some traditional Chinese music including bamboo flutes and drums. This enhanced our listening skills and introduced us to a new type of music. We looked at pictures of traditional instruments too and made our own Chinese drum with paper plates, string, lollipop sticks and bells. We had a lot of fun exploring the sounds our drums made when we banged & shook them. Some children brought them outside to the garden to play with too.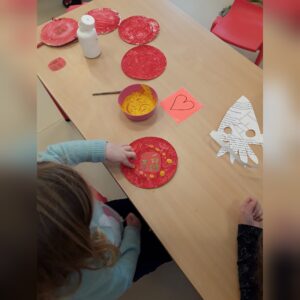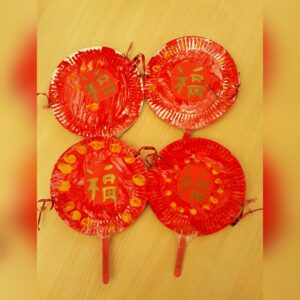 We talked about the different animals that represent each year in the Chinese zodiac and what they mean. We found out that some of us were born in the year of the monkey and some of us were born in the year of the rooster! Amy was born in the year of the ram/goat and Alejandra was born in the year of the dog! We made pictures of the different animals while watching the story of the Chinese zodiac & tried to find each animal on our pages. We also talked about the national animal of China- the giant panda. We looked at pictures of them in their natural habitat, eating bamboo and what they look like when they're born and discussed what the word endangered means. We made our own pandas using forks to make their fur and then stuck on pieces of card to make a face.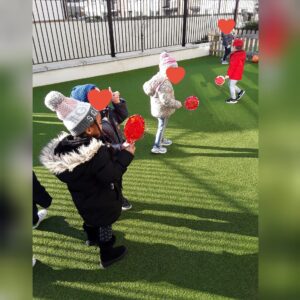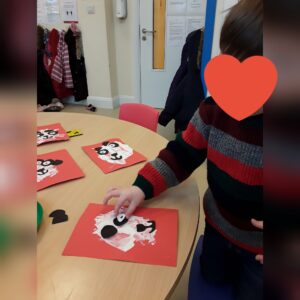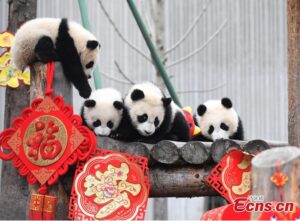 Our favourite part of Chinese New Year was talking about dragons! We looked at lots of different pictures of traditional dragon puppets used during Chinese New Year parades and made our own dragon puppets using lots of different bright colours. Some of us brought our dragons outside to play with also. We made other dragons using metallic sticky tape and string. This activity helped to develop our fine motor skills as well as our concentration and creativity. CFL said 'my dragon looks so cool', CE said 'I'm gonna call mine Mr. Dragon' and RL said 'I'm doing a pattern like this, pink, blue, silver and then pink again.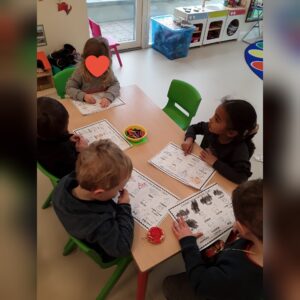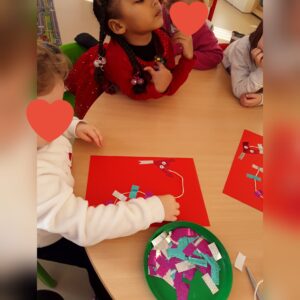 We looked at pictures of Chinese New Year fireworks displays, the children loved seeing all the different colours and then made our own fireworks using paint and recycled materials. CH said 'I want to make them like a rainbow' and KG said 'I saw fireworks before with my daddy'. CFL said 'I think this means its Chinese New Year Eve' On Friday when it was Chinese New Year Day we made and decorated chocolate cornflakes cakes which are a special new year treat for children in some parts of China and received 'Hong Bao' which are red envelopes filled with lucky coins that are given as gifts to children and elders to bring luck and prosperity for the next year.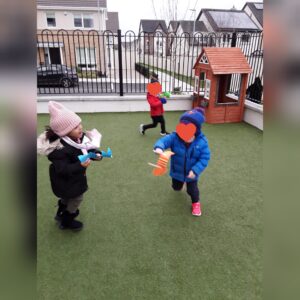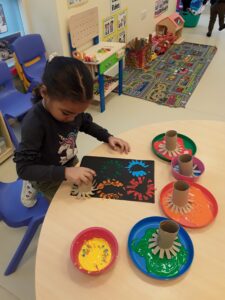 All the children have really enjoyed exploring Chinese New Year traditions and have been very interested in each topic that we talked about (especially the dragons!). Here are some links to stories and songs we have been listening to if you would like to watch them at home and some links to simple activities also.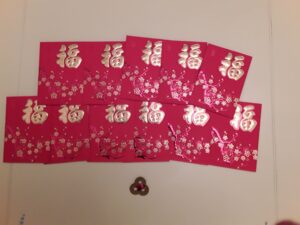 'The Story of Lunar New Year' – https://www.youtube.com/watch?v=GVPHdFX9iHY
'Lunar New Year' – https://www.youtube.com/watch?v=WZw23KIonpc
'The Story of the Chinese Zodiac'- https://www.youtube.com/watch?v=m-MS2Vd8qVM
'Goldy Luck and the Three Pandas' – https://www.youtube.com/watch?v=miNCBjBcrTw
'The Runaway Wok' – https://www.youtube.com/watch?v=og_lSSPphOo
'Ruby's Chinese New Year' – https://www.youtube.com/watch?v=XfoOGzSciL8
'How To Catch A Dragon' – https://www.youtube.com/watch?v=XPmmSTfLuEI
Chinese Dragon Dance – https://www.youtube.com/watch?v=by5sTzh67fU
Chinese New Year Crafts –
Amy & Alejandra